Welcome to PoCoLo this week which is being hosted by us, kidGLloves, a blog written by 8 year old Grace and 6 year old Lucas.  You may have already guessed that Grace is Missy V's (Lucas's name for Vicky) daughter and together with Ash, the rather handsome Border Collie, they keep me, (Cathie aka The Mother) and Missy V very firmly on our toes.  We have a lot of AWESOME fun here and you can normally find us mucking about outdoors, shooting a bit of NERF, munching on Haribo and basically doing all the fun things that kids should be doing.
When Missy V asked us (The Mother, Lucas, Ash and Dad – aka The Tall One) to look after PoCoLo for her this week, we were rather chuffed.  We're really looking forward to reading all your posts and hopefully making some new friends along the way.  By the way, we do give out an awful lot of High-5's so please feel free to return the favour!  Lucas says – The Mother was especially excited about helping Missy V out.  This was shown last weekend when we went camping.  She'd just found out and drank a lot of Mummy Juice with my Godmothers who were also camping with us and when she wanted a wee in the middle of the night, she forgot her torch and walked into the wall of a caravan.  We all heard her and we laughed.  A.  LOT………..
#SoFo
Lo is still over with Missy V this week and she has decided to do a 'Mash Up' for all your social media accounts. There is more information on here post so pop over, take a look and share.  Also, don't forget the #SoFoLo community on Google + and the #PoCoLo Facebook group where you can go and share stuff. Missy V has done SO well that she is shortlisted for the SOCIAL MEDIA category at this years Brilliance in Blogging (BiBs) with BritMums. We all want to see her WIN this year!! (any excuse for more Mummy Juice!) so please go across and vote for her using this link – http://bit.ly/1GBA8iG (If you're on a mobile or tablet, click here to vote.) Voting closes on 15th May 2015 and the finalists will be announced on 22nd May.
If you are a regular then it would be great if you spread the #PoCoLo word. However, if you are new then welcome! Post Comment Love is all about sharing posts which you have written this week which just haven't got the attention they deserve and, with them all in one place, we can help each other share the comment love. This is one of the easiest links EVER. You don't have a 'special theme' to have to write about, the post can be personal, sponsored, a photo, a review, a competition, your own linky, something you've linked to a linky….WHATEVER you like – it's one you've already written this week! If you want some publicity and attention, then you are in the right place!
Please make sure you go across and comment on at least two other linkers posts. Linkys work if everyone supports each other
 then spread the #PoCoLo about this link up on Twitter. The post you link up has to have been written in the last week. The link will go up every Friday at 6.30am and close on Sunday evening at 8pm. We will make sure we retweet anyone and also try our best to share any posts on social media which display the PoCoLo badge.
If you want to join the Newbie Showcase then you need to email Missy V at vickywelton@hotmail.com so she can put you on the rota. Remember, your blog needs to be under a year old to feature from the time of sending your email to her.
Hi, I'm Steph and I blog over at Hello Baby Blog (http://www.hellobabyblog.co.uk). I'm a mummy to two gorgeous kiddies (Jack, 3, and Phoebe, 10 months), wife to a wonderful husband, marketeer by day (when not on mat leave) and blogger by night!
Hello Baby Blog is a relatively new UK parenting and lifestyle blog featuring photography, travel, style, reviews, musings on motherhood plus much more. I started writing my blog in February 2014 when I was pregnant with Phoebe, primarily as a creative outlet but like most bloggers it has become all consuming (in a good way of course!).
Pre children, I was a wedding photographer so the blog is the perfect place for me to indulge my love of photography. I really enjoy the two photography projects I am undertaking at the moment; me and mine, a fabulous linky hosted by Dear Beautiful (http://hellobabyblog.co.uk/me-and-mine-a-family-portrait-project-january-2015/) and 'The 52 Project', where I take a portrait of my children, once a week, every week. (http://hellobabyblog.co.uk/52-project/). I also showcase the work of some of my favourite photographers in the UK (and worldwide) so if you are looking for a talented photographer to take beautiful photographs of your little ones, check out my 'photography' section and you'll find some gorgeous shoots like this one by Anna Hardy Photography (http://hellobabyblog.co.uk/sadie-anna-hardy-photography/).
I also blog about travel and the wonderful child-friendly destinations that we love (http://hellobabyblog.co.uk/bruern-cottages-review/), inspiring interiors (http://hellobabyblog.co.uk/inspiring-interiors-a-beautiful-polka-dot-nursery/), musings on motherhood (http://hellobabyblog.co.uk/guilt-loving-two/), crafting ideas (http://hellobabyblog.co.uk/get-crafting-summer-craft-ideas-for-toddlers/), yummy recipes (http://hellobabyblog.co.uk/peanut-butter-jelly-brownies/) and anything else that I think my readers might be interested in.
Since starting 'Hello Baby Blog' last year I've been incredibly lucky with the wonderful opportunities that have come my way. From fabulous review opportunities, to becoming an ambassador for some brilliant brands, I'm really grateful to the PRs and brands for their support and encouragement, especially as I still feel very new to the blogging world. I've also been amazed that there is a such a supportive, friendly online community of fellow bloggers that I never knew existed before blogging. I have made some lovely online buddies, that I hope to finally meet 'in real life' one of these days!
A huge thank you to Victoria and kidGLloves for 'showcasing' my blog this week. Please feel free to pop on over to my blog and have a browseand I would be over the moon if you subscribed for updates too! You can also find me wittering away on social media…
Twitter: https://twitter.com/hellobabyblog
Facebook: https://www.facebook.com/pages/Hello-Baby/359699324143149
Pinterest: https://www.pinterest.com/hellobabyblog
Instagram: https://instagram.com/stephanieoakes/
So, we'll leave you awesome lot to go and check out Steph and all the other mega cool blogs that have linked up to PoCoLo and we'll be popping over to have a natter to you all over the next couple of days.
Sending you all XL MEGA High-5's (see, told you we did this a lot!!!)
The Mother, Lucas, Ash & Dad aka the Tall One
xxxx
Go Over and share with #SoFoLo HERE.
Link Your PoCoLo Posts here: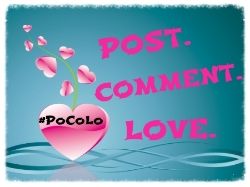 <div align="center"><a href="http://www.vevivos.com/post-comment-love" title="Post Comment Love"><img src=" http://i1322.photobucket.com/albums/u568/ToriWel/4e4a1bf6-07cb-494b-b06e-f959b1fe1311_zps654d027a.jpg" alt="Post Comment Love" style="border:none;" /></a></div>
Copyright secured by Digiprove © 2015 kidglloves